Tekstartikel Egger-Bahn, Zeitschriftartikel über Egger-Bahn, webpage with a magazine-text,
Egger-Bahn eenheidstrein Egger-bahn Ganzgüterzug

| | |
| --- | --- |
| EGGER, ook met lange treinen ! | egger lange treinen in andere kleurstelling |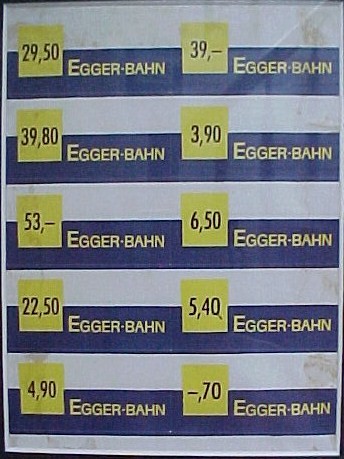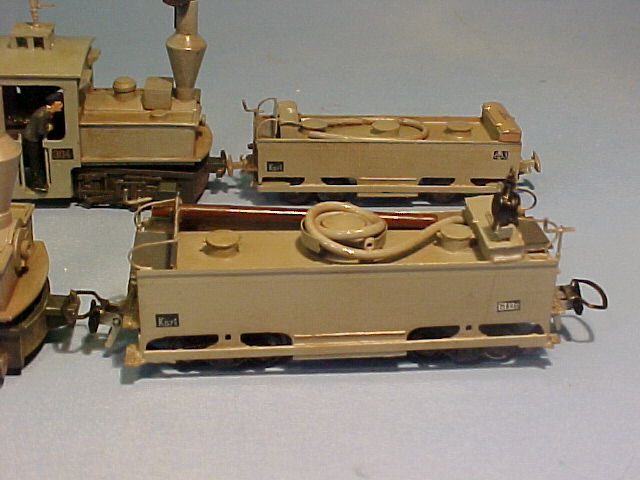 Pechot Bourdon van Ton de Vos, de waterwagens in messing van John Simons uit Breda, gebouwd door Manfred R,
de onderstellen en spuitwerk van mij.
| | | |
| --- | --- | --- |
| | | |
| Niet verkrijgbaar op het moment | Not available at the moment. Leider nicht verfügbar am moment !!! Handarbeitsmodellen. | Unterflurantrieb für langere Loks (More pictures) Not available at the moment. |
Waarom smalspoor ?
| | |
| --- | --- |
| Smalspoortreinen en gewone treinen horen bij elkaar. Smalspoor kan een aanvulling zijn op het normaalspoor. Maar smalspoor kan ook heel goed als zelfstandig thema worden gekozen. Een voordeel is de beperkte benodigde ruimte zonder dat je de werkelijkheid tekort hoeft te doen. Een smalspoortrein kan bestaan uit een lok met twee of drie wagens ( ca 30 cm) en is daarmee volkomen in overeenstemming met de werkelijkheid. | |
-------------------------------------------------------------------------------------------
Wat kunt u verwachten ?

Ik verzamel zelf reeds vele jaren smalspoortreinen in model. De nadruk daarbij ligt op het merk Egger-Bahn. Hoewel Egger-Bahn slechts 5 jaar heeft bestaan, zijn er zeer veel varianten geweest. En men heeft heel veel reclamemateriaal gehad. Daarom ben ik nog steeds op zoek naar allerlei zaken van egger-Bahn. Mijn dubbele modellen bied ik te koop aan.

Over heel de wereld zijn er mensen die interesse hebben in smalspoor en de vele contacten maken het ook leuk.

De modellen in de lijst zijn zo eerlijk mogelijk beschreven. Vele modellen zijn van vrienden. Ik moet dan ook altijd eerst controleren of de modellen er nog wel zijn. Het belangrijkste is het verzamelen, bouwen en rijden met deze bijzondere modellen. Mocht u een model hebben geruild of gekocht kan het wel eens voorkomen dat het model niet conform uw verwachting is. Geen probleem, want niet goed is geld terug. Het is tenslotte maar hobby.

Overigens ben ik dat op de M67 van de RTM
Naar boven, top, oben, au dessus
| | |
| --- | --- |
| | |
| Entwurf & Hersteller: Uli G | USSR Schmal- und normalspur. (David und Goliath. foto Udrius) |
| | |
| USSR Narrowgauge and normal gauge | USSR smal- en normaalspoor |
------------------------------------------------------------------------------------------------------------------------------------------------------
Warum Schmalspur ?

Schmalspur und Normalspur gehören zu einander. Schmalspur kann wie Ergänzung sein an Normalspur. Aber Schmalspur kann auch sehr gut als Selbständiges Thema gewählt werden. Es ist vorteilhaft dass ein Schmalspurzug oft besteht aus nur ein Lok mit zwei bis drei Wagen. Im Model ist dass etwa 30 cm. Dass ist wie beim Vorbild. Es gibt jedoch natürlich auch langere Züge.
-----------------------------------------------------------------------------------
Wass können Sie erwarten ?

Ich sammle selbst seit vielen Jahren Schmalspurmodelle. Den wichtigste Sammlebereich ist die Marke Egger-Bahn. Egger-Bahn hat nur fünf Jahre existiert, aber es gibt sehr viele Variationen von die Modellen. Und mann hat viel mit Werbungsartikel gemacht. Darum suche ich noch immer Egger-Bahn-artikel. Von viele Freunden und michselbst biete ich doppelte Modellen an zum Verkauf.

Weltweit gibt es viele Menschen den interessiert sind in Schmalspur und die viele Kontakte machen auch viel Spass.

Den Modellen in die Liste sind so ehrlich möglich beschrieben. Es kann doch geschehen dass Modellen nicht völlig Ihre Erwartungen entsprechen. Kein Problem, da nicht gut ist Geld zurück. Es ist nur hobby.

Am 'Kievit' der RTM bin ich am Ende der 50 Jahren.
----------------------------------------------------------------------------------
Why Narrow Gauge ?
Why narrow gauge? Narrow gauge and standard gauge belong with each other.
While narrow gauge can be used as a supplement for standard gauge, it can also be chosen as an independent theme. In reality a narrow gauge train often exists of a loco and two to three cars. In model this is only 30 cm or 12 inch. Of course longer trains also exists.
Naar boven, top, oben, au dessus
--------------------------------------------------------------------------------------
What can you expect from me ?

I have been collecting narrow gauge models as a hobby for many years now. The largest part of my collection consists of Egger-Bahn. Egger-Bahn only existed for five years but the firm produced an incredible assortment of models and a large assortment of advertising was material produced. I am always looking for Egger-Bahn items, the items I sell are
duplicates to my collection.
Around the world a lot of people have Narrow Gauge as their hobby and the correspondence from all over the world is also part of the fun. IN my list are models from my friends and myself. The models on the list are described honestly; however, a model could not be exactly what you had expected. If this is the situation, there is always a "satisfaction guarantee". After all, this is only a hobby.

My grandfather Johan Wittekoek (1885-1976) , Trainconductor at the RTM

Aquarel van AJ Kool.
Naar boven, top, oben, au dessus
--------------------------------------------------------------------------------
Pourquoi la voie étroite?
| | |
| --- | --- |
| La voie étroite et la voie normale forment un tout. La voie étroite peut être utilisée comme un thème supplémentaire pour la voie normale, mais elle peut aussi être exploitée comme thème indépendant. Dans la réalité, un train à voie étroite se compose fréquemment d'une loco et de deux ou trois wagonnets. En maquette, cela donne un train d'environ 30 cm. Naturellement il existe aussi des trains plus longs. | |
--------------------------------------------------------------------------------
Que pouvez vous attendre de moi ?

Je collectionne des modèles à voie étroite depuis de nombreuses années. Egger-Bahn est la partie la plus importante de ma collection. Egger-Bahn n'a existé que pendant cinq ans, mais a produit beaucoup de modèles et de produits variés, ainsi que beaucoup d'objets publicitaires très intéressants. Je suis toujours à la recherche des productions Egger-Bahn. Les objets que je vends sont ceux que j'ai en double.

Dans le monde entier il y a beaucoup de gens qui ont la voie étroite comme hobby, correspondre avec tous ces gens me procure beaucoup de joie.

Les modèles de ma liste de vente sont de mes amis et de moi et sont décrits honnêtement. Mais si les modèles ne répondent pas à votre attente, il y a toujours la garantie « satisfait ou remboursé ». Après tout, c'est seulement un hobby !


Aquarel van AJ Kool
Naar boven, top, oben, au dessus
-----------------------------------------------------------------------------------------
send an E-mail to eggerbahn(at)gmail(dot)com

stuur uw email aan eggerbahn(apestaartje)gmail(punt)com

Liste in Excel oder Word. Bitte angeben

List in Excel or Word. Please, give your preferences

Lijst in Excel of Word. Voorkeur graag aangeven.

Liste en Excel ou Word. Svp me dit votre préferences

Maar de lijst staat ook hier op de website. Klik hier
Naar boven, top, oben, au dessus
Borgward von Egger-Bahn. HO. Entwurf und Hersteller Michael B.
Naar boven, top, oben, au dessus
Links naar andere Egger-sites. Links to other Egger-sites, Nach andere Egger-seiten.
Links: EGGER-BAHN
alph Stenzel's sehr interessante Egger-seiten. A very good Egger-site by Ralph Stenzel.
Die kleine Bahn mit dem grossen Charme – seit fünfzig Jahren. Egger-Bahn Zwitserland
NIEUW https://feldbahn-schmiede.de Veel onderdelen voor Egger-Bahn en nieuwe smalspoor modellen NIEUW
Michael Peters with everything you ever wanted to know about EGGER-BAHN LECTRON.

Thomas Koppermann met allerlei smalspoor en veel details van Egger-Bahn. Viel details von Egger-Bahn
Trains de François Hele leuke site met veel voorbeelden. Sehr schöne website mit viele Vorbildern. Great Site.
Links: Andere smalspoor sites. Andere schmalspur seiten
Alles over het Thema Smalspoor in het echt en model. Alles zum Thema Schmalspur in Modell und grosbahn.
Alle vierkante loks, alle Kastenloks uit vele landen door https://tramfabriek.nl/kastenloks-nederland.html NIEUW NEU
Jürg Fritschen. site met heel veel modellen en links naar andere modellen NIEUW NEU
Thomas Koppermann met een aktuele lijst van alle spoorbreedtes. Liste aller Spurweiten.
Stameldam Een modelbaan met oa RTM modellen . Modellanlage mit ua RTM
De bekende Smalspoorbaan van de EWK Wilhelmstal-Elisabethen-Knoblauch Privatbahn-Gesellschaft
Mooie Nederlandse smalspoorsite met zandafgraving. Anlage mit Abgrabung und Bagger.
Hubbard bekende site met schoenendoos baantjes. Schuhkarton Anlagen
Frank Jacob. Mooie voorbeelden en verbouwingen Schöne Vorbildern und Umbauten. Niet bereikbaar 10-1-19!
Oostenrijks smalspoor met schitterende foto's. Österreich schmalspur mit schöne Bilder
Hele mooie smalspoor website zowel in het echt als modell Sehr schöne richtige Schmalspurseiten (Modell und Wirklich).
Smalspoor in Model en in het echt. Schmalspur 1:1 und modell
Smalspoor in Blik van Biller-Bahn, schaal 0e. Schmalspur auf 0e von Biller-Bahn.
Jelle Jan Heeresfeldbahn uitgebreide dokumentatie
Links: Musea en bijzondere tentoonstellingen
De Gelderse SmalspoorStichting
Industrieel Smalspoormuseum en Turfmuseum Erica in Drenthe.
Site van de RTM te Ouddorp. Vliegen met Drone over de RTM
De fraaie modelbaan van Spijkspoor. Schöne Anlage von Spijkspoor
Smalspoor bosspoorweg voor hout en leem vervoer.
Smalspoormuseum van de franse smalspoorpionier; Paul Decauville , Museum der Schmalspurpionier Paul Decauville.
Smalspoor in Duitsland. Schmalspur in Deutschland, narrow gauge in Germany
Het Nederlandse Smalspoormuseum bij Leiden.
Links: Verenigingen, tentoonstellingen Beurzen Vereine, Societies, Exhibitions Markets
De grootste treinenbeurs van Europa, grossten Börse in europa, la plus grand bourse en Europe. ook voor RAIL 3 dagen
De originele 009 vereniging uit Engeland. The UK 009 society
Kaj-M De haven baan van Rotterdam met veel modellen van DeVO
The HOn30 Home Depot HOe. Bron van veel kennis over smalspoor. Sehr viel Kenntnis von Schmalspur. USA.
Verzamelen, Verzamelen en nog eens verzamelen. Sammlen & Collecting, Ohne Ende Blik, Blech, Tintoy
Links: Fabrikanten, Hersteller, Products
Website voor kartonmodellen van treinen en baggerwerken. Seiten zur Karton Modelbahnbogen und Bausatze wie Feldbahn, Eimerbagger & mehr
Minitrains Duitsland, modellen in de trend van Egger-Bahn, maar ook UK en USA en Heeresfeldbahn .
Tramfabriek, Smalspoormodellen naar Nederlands voorbeeld en zeer fraaie aandrijvingen
Anita decor, Bomen, struiken, wegen en landschapsbouw. Hersteller von Scenery Products, für alle Landschaftsbau benötigkeiten
Nigel Lawtons narrow gauge models wie den super fahrende O&K and Simplex. click hier voor een model
Alle (smal)spoortoebehoren, Any kind of parts for Narrow gauge, Alles für den Schmalspurliebhaber.
Voor realistische modellen, Für realistische Modelle, For realistic models
Frank Tümmeler Schmalspur. The narrrow gauge shop by Frank Tümmeler.
Smalspoor uit Japan, Schmalspur von Japan
Links: Bijzonder, Besonderes, specials
Alles voor uw playstation. Maak uw PlayStation exclusief en heel bijzonder.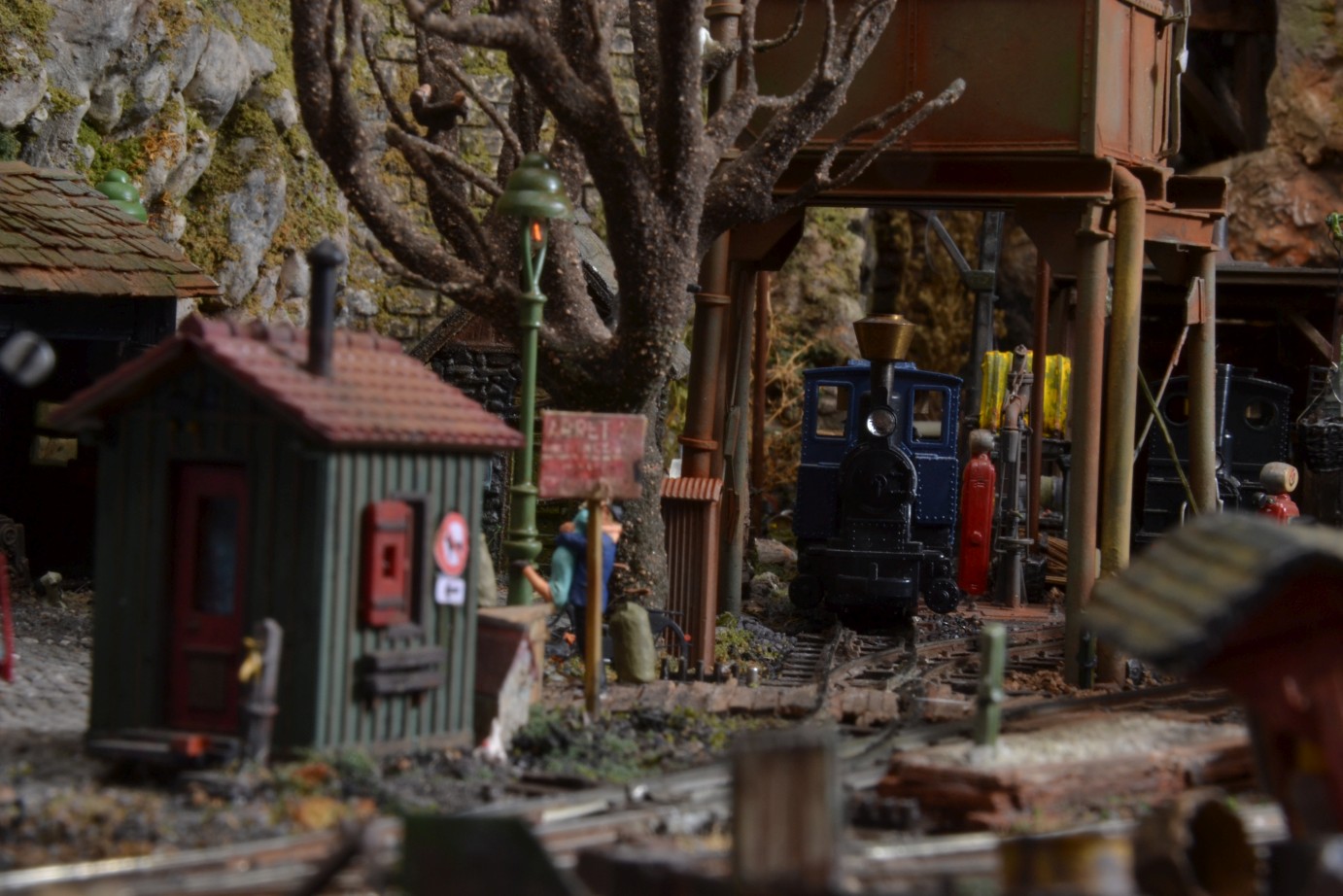 Naar boven, top, oben, au dessus
Nürnberg Messe !!!!!!!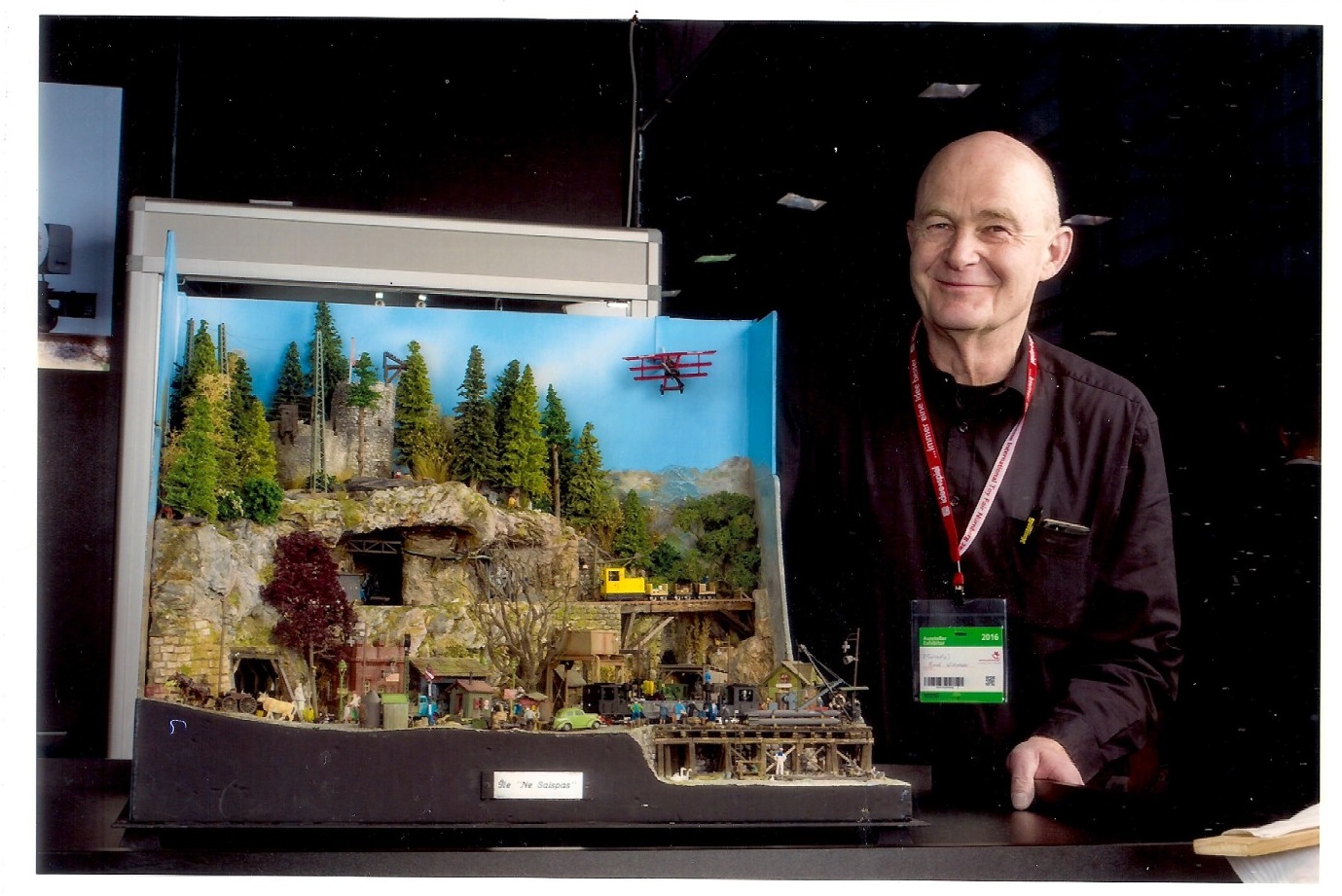 | | | |
| --- | --- | --- |
| | | |
| Hiroshi Kato | Minitrains NS2F | Andreas Schönfeld en Ruud Wittekoek |
| | | |
| --- | --- | --- |
| | | |
| Axel Wolliger en Michaela Bajus | Andreas Schönfeld en Rolf Fleischmann | Minitrains NS2F |
| | | |
| --- | --- | --- |
| | | |
| Andreas Schönfeld en Hagen von Ortloff | Axel Wollinger en Frank Tümmeler | Manfred en Jutta Luft en hun demobaan |




In deze vermelde link staan meer dan 100 voorbeelden van verschillende spoorbreedtes http://twhk.de/spurweiten/modell.htm
In dieser link sind mehr als 100 Spurweites aufgenommen. http://twhk.de/spurweiten/modell.htm
Link to 0ver 100 gauges, link a plus que 100 voies. http://twhk.de/spurweiten/modell.htm
Onderstaande lijst is gedateerd, maar geeft wel in het kort de meest voorkomende schalen.




Free counters provided by Andale.


And now for something completely different: