Naar andere banen / Nach andere Anlagen/ To other lay-outs
Ton de Vos, Kunstenaar in styreen en techniek
Ton de Vos, NL, schaal HOe " NIKKEL 3"
Voorbeeld: USSR. De spoorbaan is gesitueerd in Rusland, Oblast (provincie) "Karelie" om precies te zijn.
Speelt zich af in de 50, vroege 60. Landschap moet nog worden aangebracht.
Er wordt Nikkelerts gewonnen, verwerkt, geladen in treinen en verder getransporteerd.
Maten zijn 140 x 80 cm. alles is zelfbouw, gebouwen, meeste treinen, auto-aandrijving. Behalve een smalspoortrein rijden er ook voertuigen, aangedreven door
een ketting met magneten. Aantal wagons zijn nagebouwd van vele foto's omdat er niet aan tekeningen is te komen. Zowel verlichting ( nu in uitvoering) middels gele ledjes. Het geheel wordt van geluid voorzien. Compleet met Russische strijdliederen (voor we aan het werk gaan) Landschapsaankleding wordt door 'profi' Henk Wust verzorgd.
Modellvorbild ist USSR in Oblast "Karelie". Vorbild ist im 50er/ frühe 60er.
Es wird Nikkel erzt gewonnen, verarbeitet und in Erzzuge beladen und weiter transportiert.
Die Anlage ist HOe und ist 140x 80 cm. Alles ist selbsthergestellt. Von die Gebäude, Zügen, bis an den Autowegsystem. Den typische USSR PKW und LKW werden von Kettensytem mit Magnete angetrieben.
Die beleuchtung wird aus ein grosszahl gelbe Leds sein. Es enthalt ein Sound-system. Den Landschaft wird 'angezogen' von Henk Wust.
Nikkel 3 (in english; nickel 3)
The layout is situated in the north-west of Russia, in the province (oblast) Karelia. Although there are several real nickel mines there (the big company Norilsk Nickel mines the minerals) I have no information of narrow gauge tracks in and around these mines. It's a so called closed area.
The first choice of the time period was the 50's. this had everything to do with the commercial available loco's (roco hf 110 c).
These were al from German origin and several of these type were used after the second world war by the Russians.
I usually first make a track plan and then I start with the building of all of the structures. These are placed on a baseboard together with the turnouts and some track. About every day some minor changes take place. After a few weeks (or sometimes months) everything will be drawn on the base board and I start cutting the baseboard.
The operation of the layout is very simple; there are 2 identical nickel ore trains. One loaded and one empty. They both run in a push/pull mode. The first pushed car has a kind of observation box on front with a semaphore. (I saw that once in a old photograph of a ship towing railway somewhere down the donau river)
-The empty ore train will run from the storage yard thru the tunnel mouth into the little station and stops.
-After a honk or whistle (depends of diesel or steam loco) the doors of the loading facility will open and the train goes in.
-doors are closed. The train will then run thru to its own place in the storage yard.
-In the meantime the little old bus (or other vehicle) has came from the hill and is stopped for the station. (this runs by a heavy geared electric motor which pulls a endless chain with a magnet under the roadway and another magnet under the vehicle)
-A small railcar runs from the storage yard thru the tunnel in to the station and stops.
-The doors from the loading facility open and the loaded ore train will come out and stops in front of the signal box.
-Doors of the loading facility close.
-door of signal box will open and the signal man wave the ore train out.
-ore train leaves the station and runs into the storage yard.
- rail bus dos the same.
-the little old bus leaves and runs op the hill into its own storage yard.
These sequence happens a few times a day. Sometimes an extra train will stop at the station with supplies. The storage yard has also some strategically placed stub ends for some later expanding. You never know.
There is a simple sound system will also be expanded with sounds of heavy equipment in of the loading facility and some Russian patriotic music for the workforce.
Further more there is some welding light in the workshop, and the red flag is waving from the tower (by a little highly reduced electric motor with a timer and a crankshaft mechanism)
In the meantime I have built more rolling stock so I could now run trains from the 1950's till the 1980's.
Its not the first layout that I built, but by far the most pleasant. Because this lay-out has come a little out of hand (to heavy and to bulky to safely transport) a little shunting board –also Russian- is now under construction.
Inspiration plenty on this site!!
Happy modelling to you all;
Ton de vos
Schiedam
Holland.
Le modèle est situé en USSR dans la provence de Karelie.
C'est en 1950/1960. Nickel est travaillé dans l'usine. Le transport est fait en train a voies étroites en 750 mm.
Le réseau est en HOe, méasure 140x80 cm. Presque tout est fabriqué par Ton de Vos lui-même. La bâtiments, les trains, le system de rouler les voitures etc.
Il est un system de son et beaucoup des Led pour illumination.
Ga voor andere modellen van deze ontwerper, andere Modelle dieser Entwerfer, Other models of this genuis:
http://mm.trainsandtrucks.nl/projecten-2/oude-zooi
Ton de Vos, Yurze Ore Mine, ter ere van Carl Arendt. H0e
| | | |
| --- | --- | --- |
| | | |
| | | |
| | | |
| | | |
| | Yurze Ore Mine , H0e, Ton de Vos | |
Naar andere banen / Nach andere Anlagen/ To other lay-outs
Paspennenbaan Oeral H0e. De gebouwen op deze baan staan op "paspennen"en kunnen eenvoudig worden gewisseld met andere gebouwen. Zo kan de baan in veel verschillende landschappen worden ingepast.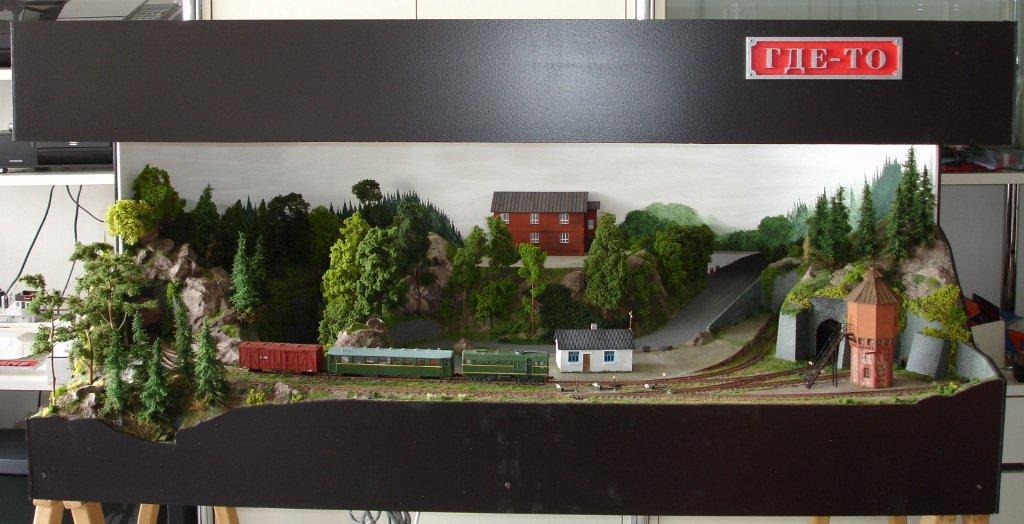 Naar andere banen / Nach andere Anlagen/ To other lay-outs
Rangeerbaan, Rangieranlage, Shuntinglayout, Résau demanoeuvres
De gebouwen zijn voorzien van werkende deuren. een handwieltje met wat staaldraad onder de baan, en tuimelaars onder de deuren.
Meer is het niet. het hoeft niet altijd met electronica en servo's o.i.d. er kan handmatig heel veel en het is nog goedkoop te maken ook.
Ook zijn er op diverse strategische plaatsen kadee magneten geplaatst.
Wissels worden weer bediend met de bekende houtjes methode, met een microswitch voor de hartstukpolarisatie (een must voor een rangeerbaan). de houtjes lopen ook van de voorkant naar de achterkant zodat de baan ook van achter de achtergrond te bedienen is, voor shows dus. De sporen zijn verdeeld in 3 stroomkringen welke doormiddel van tuimelschakelaars aan 1 van de 2 aan te sluiten regelaars kunnen worden verbonden. Een eenvoudige manier om met 2 locs te kunnen rangeren of met 1 loc terwijl er een treintje langs het stationnetje rijdt. 2015 02 16
Ton de vos
Naar andere banen / Nach andere Anlagen/ To other lay-outs